Aircraft Maintenance in Upland, CA
When you own an aircraft, maintenance is extremely important and may be needed often. Foothill Aircraft understands the stress that can come with needing maintenance, and we work to make the process as seamless as possible. When you choose Foothill Aircraft for your aircraft maintenance, repair, and warranty needs, you can expect high-quality care and attention for you and your aircraft.
We are authorized to perform maintenance work with factory parts on any aircraft and airframe up to 12,500 pounds, and our staff has been factory trained by Cirrus, Cessna, and Mooney.
What Aircraft Maintenance Services Does Foothill Aircraft Provide?
Our warranty center is your one-stop-shop for all of your aircraft maintenance needs. Being a full-service aircraft maintenance facility, we offer a full range of services, including:
Aircraft weight and balance (mobile service is available)
Pitot-static system testing (mobile service is available)
Annual inspections (including owner-assist annuals)
50-hour inspections
100-hour inspections
Aircraft pre-purchase inspections
Service Bulletin (S.B.) compliance
Engine repairs
Transponder testing (mobile service is available)
Engine overhauls
Airframe repair
Oil changes
Air conditioning service
Cockpit modifications
Prop service
Warranty service
Airworthiness Directive (A.D.) compliance
Whatever your aircraft needs may be, Foothill Aircraft's maintenance center is here to help.
Foothill Aircraft Is an FAA-Certified Repair Station
As an FAA-certified repair station, our aircraft maintenance technicians are qualified to work on any aircraft and airframe up to 12,500 pounds. It is common for repair stations to become certified in specific aircraft maintenance; however, at Foothill Aircraft, we have a certificate from the Federal Aviation Administration that encompasses all aircraft under that weight limit.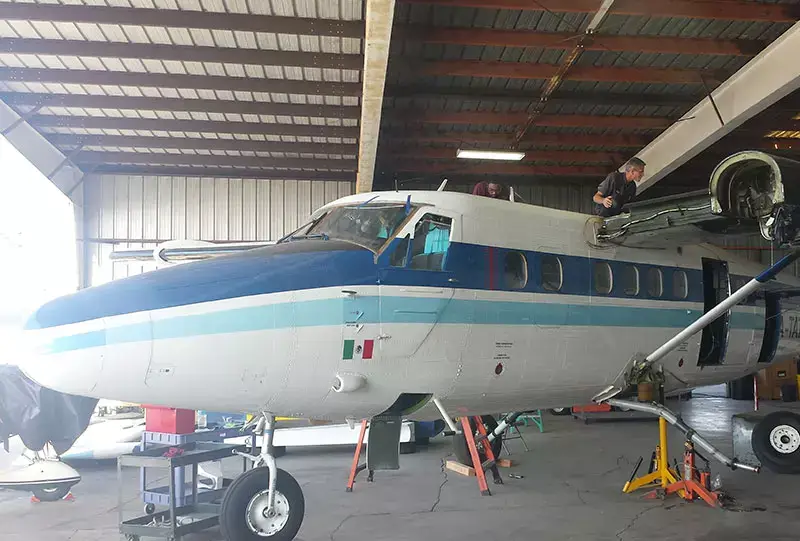 What Aircraft Do We Specialize in?
We specialize in all aircraft; however, some of the more popular models we service are:
Jetprop (specifically Jetprop conversions)
Cirrus SR22 and SR22T
Cessna 208 Caravan
Cessna Stationair
Cessna Skyhawk
Cessna Skylane
Beechcraft King Air
Beechcraft Baron
Beechcraft Bonanza
Piper Seneca
Piper Archer
Piper Arrow
Piper Meridian
Piper M600, M500, M350
Our Factory Service Centers:
Cessna Authorized Service Center

Cirrus Authorized Service Center

Mooney Authorized Service Center
By leaving your aircraft in the hands of our authorized service center and factory-trained mechanics, you can feel confident that you are receiving the best care possible.
Interested in Learning More About Aircraft Maintenance?
If you are interested in learning more about aircraft maintenance services and how Foothill Aircraft can help, please call 909-985-1977.